By: Michelle Klimczak, Registered Nurse, Population and Public Health, with a focus on health equity.
We frame infant feeding success as exclusive breastfeeding, so maybe it's surprising that I got support with formula feeding through local lactation consultants? In fact, I think the support they offered was exactly the kind of compassion, kindness, and respect that new moms deserve. It's possible to be inclusive.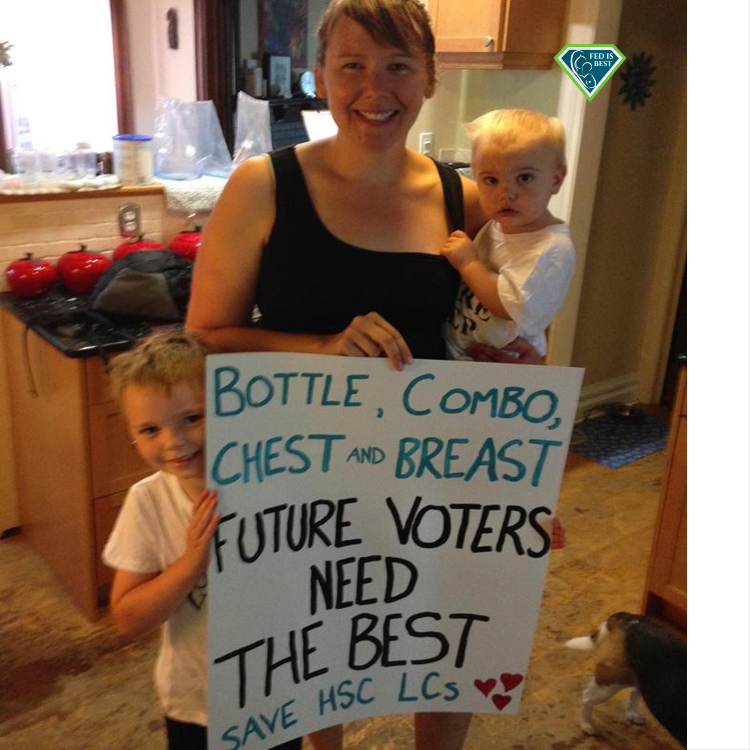 When our fourth baby arrived we knew our family was complete, and so I've savored every milestone even when it feels a bit bittersweet. He just passed 18 months so a lot of the baby stuff that all 4 of my kids used is now packed up. It's amazing to think of how I agonized over decisions about strollers and car seats and now those things are just "stuff". It's amazing too to think of what was meaningful, like what was actually good advice, what was actually helpful, what was actually supportive. These conversations about support are undoubtedly well-intentioned, but I learned time and time again that there are all kinds of ways to find support for a specific version of mothering, but not much widely available when you don't match up to that version.
That "version" is largely reflective of the kind of mothering that happens when you have the privileges of wealth, and education, and an able-body, food and water security, and the social status that comes with a hetero-normative/traditional family structure. When you have those privileges, your baby has a pretty good chance of having good outcomes, and so by and large, we try to carry out the practices associated with that version of mothering.
So what happens if you can't "do the thing"? Well, given that I hold all the privileges I talked about above, it's quite likely that I never would have had a clue, and could have ascribed my own kids' greatness to my practices rather than my privileges. But, life has had a way of teaching me big, humbling lessons and as it turns out, it wasn't that I needed support to do the "right" thing but I did need support (and lots of it) to figure out how to do things differently. All four of my kids were by-and-large formula fed. I desperately wanted to breastfeed because that's "the thing" but it just wasn't in the cards. No amount of support would have changed something I couldn't physically do. The support I needed (and was so lucky to find) helped me figure out the practicalities of feeding and feeling successful.
It's tricky though because I think there's a general impression that feeding supports should exist to minimize formula use, not support it.
When it was announced that their lactation services would be cut, I was devastated because their clinic was one of the few organizational places where I felt supported and welcome. It was a no-brainer for me to get involved in supporting the rally to advocate for a reversal of the cuts to lactation services because I knew personally and deeply how important it is to have top quality, evidence-based supports for infant feeding.  So, not surprisingly, there were parts of the rally that were hard: the usual "breast is best" messages, speakers making exaggerated claims, and virtually no acknowledgement of how marginalized groups, especially Indigenous communities have been left out of these conversations altogether. Having said that, I painted signs and shirts and hauled stuff and organized my kids to be there because support IS important.
Support is important when it centres what is compassionate, and kind, and respectful and acknowledges that women are already the experts in knowing what will be best for their families. Support should be the scaffolding that helps women accomplish their goals, not an excuse to tell us our goals are wrong. Do we need supports that help level the playing field? Undoubtedly, as so many women don't find themselves in circumstances where a full range of infant feeding options are available.
However, telling women that they should make a specific choice to accomplish the best outcomes places the burden of public health goals on the individual rather than rightly upholding these outcomes as societal responsibility.
Overall, we don't do a very good job of providing comprehensive, inclusive supports to new moms so if you have a chance to stand up for that, I hope you'll take that chance, and I hope you'll think of how to cast the widest net possible. I absolutely support your infant feeding practices. I hope you'd do the same for me.
---
Michelle Klimczak is a Registered Nurse in Winnipeg, Canada. Michelle began her career in Labor and Delivery in 2008 and has since focused on Population and Public Health, with a focus on health equity. Michelle is a mom to 4 boys, none of whom you could ever guess feeding method in their first years.
'Welcoming a new baby into the world can be a time fraught with uncertainty for so many families. One thing is sure, families come into this period already experts in what will work best in their circumstances. It's such a privilege to be part of the Fed Is Best Foundation, centering and supporting the infant feeding choices of families worldwide."
---
HOW YOU CAN SUPPORT FED IS BEST
There are many ways you can support the mission of the Fed is Best Foundation. Please consider contributing in the following ways:
Thank you so much from the Founders of the Fed is Best Foundation!
Please follow and like us: