Updated August 24, 2018
This guide is a safe infant feeding guide for parents and clinicians to read, download and share. It includes the following Fed is Best educational material:
The Fed is Best Foundation Campaign Letter
The Fed is Best Feeding Plan
The Signs of a HUNGRY newborn
The Fed is Best Guide to Supplementing Breastfed Newborns
How to Power Pump to Help Increase Breast Milk Supply
The Size of the Newborn Stomach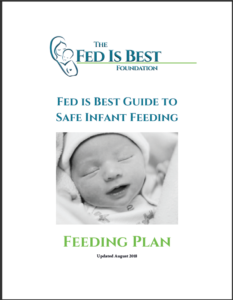 ---
We believe all babies deserve to be protected from hunger and thirst every single day of their life and we believe that education on Safe Infant Feeding should be free. If you would like to make a donation to support the Fed is Best Foundation's mission to teach every parent Safe Infant Feeding, please consider making a one-time or recurring donation to our organization.