Safe Infant Feeding and Maternal Mental Health
Welcome to our infant feeding Educational resources page!
Here you'll find a variety of materials intended to support you in best feeding your newborn, and some materials to help your clinicians best support you in doing so. Please check back from time to time as we're working to expand this section to include comprehensive feeding information for all types of feeding plans – breastfeeding, and formula feeding, pumping, bottle, tube, syringe, and cup feeding too.
We're proud to say that the Fed Is Best Foundation is dedicated to supporting and empowering parents to make safe feeding choices for their babies, while protecting their mental health.  Click below for more information, and please check back from time to time as we'll be adding information regularly.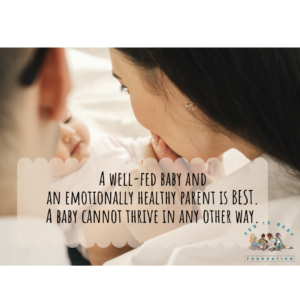 Click here: WHY FED IS BEST: FROM ONE THERAPIST'S POINT OF VIEW
Disclaimer:  This resource page does not replace in-person physician evaluation and treatment.  It is meant to inform parents of the most recent data regarding infant feeding and to increase their knowledge on how to protect their newborns from hyperbilirubinemia, dehydration, hypernatremia, hypoglycemia and extended or repeat hospitalizations due to complications from underfeeding.  Earlier supplementation may be needed for babies who are premature or have medical conditions. It is recommended that a parent seeks evaluation by a physician trained in newborn care for any concerns regarding the health and safety of her baby if they arise.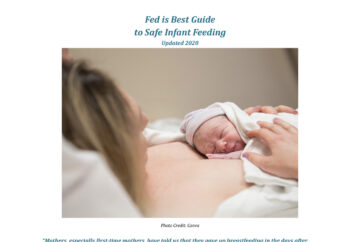 Updated September 10, 2020 We are proud to present the latest edition of the Fed is Best Guide to Safe Infant Feeding. The new guide has information on how to safely feed infants regardless of how you plan to feed, whether exclusive breastfeeding, supplemented breastfeeding or exclusive formula-feeding. Included in the plan are helpful resources: Check … Continue reading The Fed is Best Guide to Safe Infant Feeding: The Educational Packet