Baby-Friendly Protocol Complications in the Media
Serious complications associated with strict adherence to the Baby-Friendly Hospital Intiative and the WHO Ten Steps to Successful Breastfeeding have led to preventable hospitalizations for jaundice, dehydration and hypoglycemia, known causes of impaired brain development. Some hospitals have seen deaths and near-deaths due to suffocation from accidental bed sharing, called Sudden Unexpected Postnatal Collapse. These accidents are commonly caused by maternal exhaustion and falling asleep during skin-to-skin care or prolonged nursing, which is compounded by sleep deprivation caused by 24/7 rooming-in.  These preventable accidents have prompted the American Academy of Pediatrics to publish guidelines on Safe Sleep and Skin-to-Skin Care for the Newborn Period for Healthy Newborns.
Many cases of infant harm resulting from strict adherence to Baby-Friendly practices have resulted in multi-million dollar lawsuits. Many of these cases have been published in the media.
After reading about highly publicized cases of infants harmed, please read about the risk of brain injury from starvation-related jaundice presented by Baby-Friendly USA board member, Dr. Lawrence Gartner.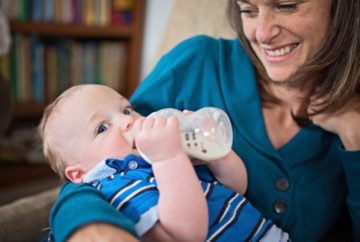 "Dr. Christie del Castillo-Hegyi gave birth to her son in 2010 at the same Albuquerque, New Mexico, hospital where she worked as an emergency room doctor. The delivery was fairly textbook, and when del Castillo-Hegyi left the hospital a few days later, she had little cause for concern. Her baby was latching well, and so … Continue reading CNN: The 'Breast is Best' Policy Backlash