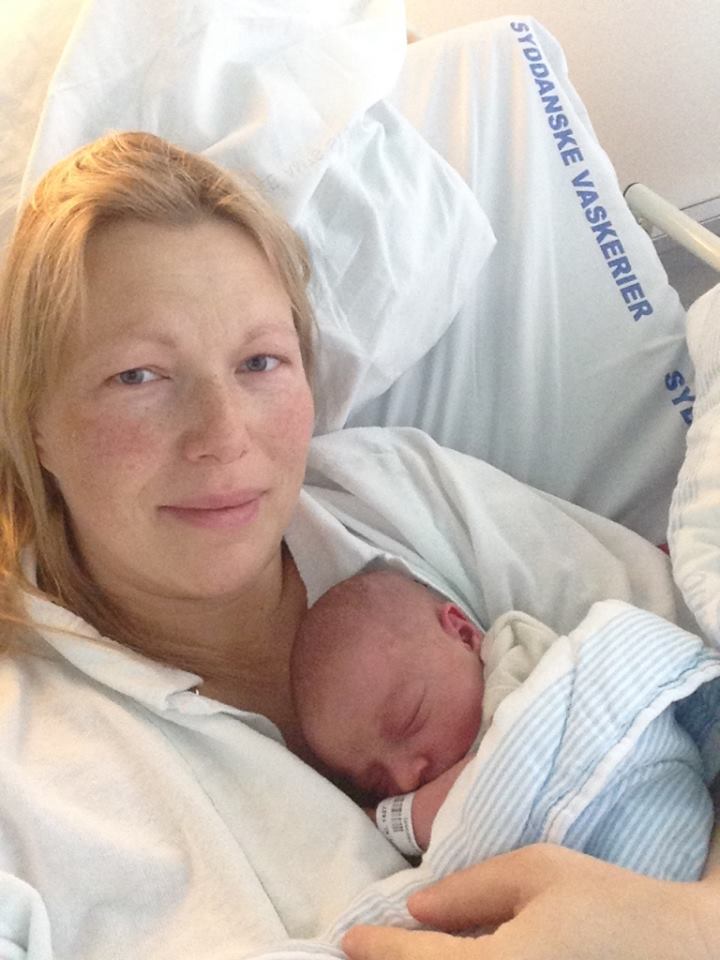 I am currently in Denmark, one of the Scandinavian countries which boasts some of the world's highest breastfeeding rates. It is illegal for baby formulas to be advertised or promoted. No 'samples' are ever given from a hospital. As a result, some 98% of mothers leaving maternity wards are breastfeeding their babies. Moving to Denmark while 6 months pregnant, this was one of the many policies that I was looking forward to, having no idea that there could be anything negative about it.
My pregnancy was the result of 4 years of ART cycles – 2 IVF's, 3 frozen embryo transfers, and 2 miscarriages.  So when we were finally, really truly pregnant and this little one seemed to be sticking around, I went right to the library to get armed with all the best info for the remainder of my pregnancy and beyond. I was going to do absolutely everything just right for my miracle baby.
I am very sad to say that one of the first books I got from the library was a popular breastfeeding bible on breastfeeding. I was floored reading that breast milk was so important- I had no idea, (how I managed to be a resilient, productive human being despite being raised on formula was a part of the equation that escaped me, but that is a different story) and so that lead me to La Leche League meetings, breastfeeding forums, and support groups.
I did not have a nice pregnancy. I had terrible morning sickness until about 20 weeks, then I had about 2 weeks of feeling good before the unusual swelling began and I was generally feeling really bad. At the end of my pregnancy, my blood pressure spiked dangerously high, I had protein in my urine, and I was diagnosed with pre-eclampsia. I was induced and 2 days later gave birth to my baby girl. Unfortunately, I had excessive bleeding due to a piece of retained placenta, and less than an hour after giving birth I was taken to surgery. I lost a total of 2 liters of blood.
Some hours later I was reunited with my baby and husband. Even that night in my exhausted, groggy, and anemic state, I was ecstatic and I was instructed to have lots of skin to skin contact with my baby to initiate breastfeeding.
The next day, the doctor came in to let me know that my hemoglobin was very low, and strongly recommended that I have a blood transfusion. She also let me know that because of my blood loss, I might be delayed in having my milk come in. That particular line was one that was repeated to me by nurses, doctors, and midwives throughout my stay at the hospital. I look back at that in wonderment – no one recommended supplementation to make sure my baby would be okay until my milk came in knowing that in full likelihood my milk would be delayed.
My  girl never urinated in her first 2 days, but she did produce bowel movements. She seemed nauseous and wasn't terribly interested in breastfeeding in her first 24 hours. I was reassured that in their first 24 to 48 hours, babies may not suckle and it was normal. I was given instructions to massage my breasts and express colostrum, which I could try to give her on a teaspoon. I never got anywhere close to a teaspoon full of colostrum at any point. I got little drops that I tried in vain for her to take.
As we approached her full second day, she was nursing. And nursing. I was instructed to keep putting her to the breast. They helped with my latch, which eventually was very good. I was also still trying to express what I could, but I was beginning to panic that she wasn't getting enough. The irony here is that I thought, "Thank goodness for all the support for breastfeeding, because otherwise I would have folded and gone to formula." Breastfeeding, despite "being the most natural thing in the world" was not intuitive. It was hard, and I was worried.
There is a foggy period here in my memory due to exhaustion. I did ask my husband to bring in a vacuum flask of fresh boiled water so that I could dissolve some sugar in it to give to her. I got this from a popular breastfeeding pediatrician's website that I googled on my smart phone while in hospital… I didn't even think to ask my husband to bring formula because of course, if she really needed it, wouldn't the hospital recommend it? Add to this all the other brain washing I'd had by the lactivist community.
I hid the sugar water from the nurses. I gave her the few drops of colostrum I could get out of me in a teaspoon of sugar water and hoped my milk would hurry up and come in. She had lost more than 10% of her body weight by that point.
On the beginning of our 3rd day, she was still losing weight, and still no wet diaper. I was now in distress and so worried for my girl. I hadn't slept trying to nurse her all night. The instruction I had received was to keep putting her to the breast. It was at this point that an experienced older nurse came in to check on us. Her spoken English was not strong, but she understood me and she spoke with my husband. I told her how worried I was. I finally asked if I could have formula. She and my husband talked, and I could see the relief in both of them. My husband had asked her, "What are we going to do about this?" to which she replied, "The baby needs formula! A baby needs to eat!" We had given her the green light, and bless her, when she came back she said, "A tired mum doesn't make red blood cells or milk." We tried with a little cup first, and my baby didn't do well with that, so the nurse got us a little bottle.
My little girl sucked on that bottle so fiercely, I think she barely breathed as she inhaled her 20 ml formula. I sobbed with relief and grief. It was a full half day later before a pediatrician reviewed her file and prescribed supplementation. My girl was born weighing 3.3 kg, by her 3rd day she had lost nearly 500 grams. That was 15% of her body weight.
I am so sad and angry about the experience my little girl went through, and also about what I experienced myself. I knew my baby needed nourishment, but the "breast is best",  misinformation took over and 'Baby Friendly' hospital breastfeeding policies prevented any suggestion of formula or supplementation until after my baby proved she needed it.
In my physically exhausted and sleep deprived state, I made my own sugar water because I didn't demand formula or proper supplementation when I knew my baby needed it. Even worse is thinking about what might have happened had I not acted on my own. No one checked her glucose levels. What if I had done nothing and simply waited for the hospital to recommend action?! That one still haunts me.
In summary, I should not have had to ask, demand, or otherwise request supplementation. I should have never felt like I needed to sneak something in to feed my baby. Supplementation should have been recommended so that my baby was protected.
I will forever be thankful to the nurse who said, "A baby needs to be fed, and a tired mum doesn't make red blood cells or milk." She reassured me we were doing the right thing. One week after we were discharged from the hospital, Vivian was back up to her birth weight.
Vivian is now 2 months old. We successfully combo feed her and she is flourishing. She prefers the breast, but will take a bottle when it is not enough. I am well enough now that perhaps I could power pump to get my supply up enough to exclusively breast feed her, (my supply never seemed enough for her) but my husband rejoices in being able to give her a bottle when he comes home from work, and I feel secure knowing that she is satisfied, fed and happy.
What is so sad is, the nurses and doctors were most likely trying to prompt me to ask for formula, but me being new to the country, I did not know that they could not suggest formula until I asked for it.
~Alexis, a forever #FedIsBest advocate.
*Note – Alexis has discovered that she can request an audience with the hospital administration to discuss her case, and she will be doing so in the near future. She has also began investigating Danish law and the WHO code specifically.
---
For more information on how to protect your baby from feeding complications due to early exclusive breastfeeding, please read and download the Fed is Best Feeding Plan, a way to communicate your feeding choices to your health care providers.
In addition, please read and download the Fed is Best Weighing Protocol to prevent newborn dehydration and failure to thrive.
Lastly, for more detailed information, please watch our educational videos on Preventing Feeding Complications.
Our full list of parent resources can be found on our Resource Page.