My son, Harrison, was born 8 weeks ago at a Hospital in Fredericksburg, Va. He decided it was time to meet mom and dad two weeks before his due date and was born via C-section after 22 hours of labor. At birth he was 8 pounds 2 ounces and 21 1/2 inches long.
Before giving birth, my husband and I took every class the hospital offered. We took the two hour infant CPR class, nine hour childbirth class, three hour bringing home baby class, and three hour breastfeeding class. As first-time parents, we were filled with nervous excitement. Harrison is our miracle baby. I went through fertility treatments because PCOS and hyperthyroidism made it impossible for me to get pregnant without medical intervention.
After the unplanned C-section I was in no shape to help with Harrison's care. The sweet nurses spent time with my husband and showed him how to diaper and swaddle. When it came time to breastfeed, Harrison latched right away and fell asleep soon after.
This continued for 12 hours and I started to become concerned. A lactation consultant was making the rounds and stopped in to check on us. I told her I didn't think Harrison was actually eating or that I was producing anything. She specifically asked if I had PCOS and said that having that condition could affect my milk production. A few minutes later, she sent in another consultant to hook me up to a pump.
I pumped for 20 minutes and got droplets. The other consultant assured me this was enough to feed my eight pound baby. This was Thursday.
On Friday afternoon my husband left the hospital to install the car seat, set up the bassinet, and buy a few things at Target. I was left alone for the first time since Harrison's birth. Harrison was born at 10:35 a.m. on Wednesday, so by midday on Friday he was really starting to get hungry. Knowing I wasn't producing milk and that my baby hadn't eaten, I started to cry—a lot. A nurse came in and asked what was going on. I explained that I didn't think Harrison was getting any milk. She sent in a lactation consultant.
I asked the lactation consultant for formula to supplement, but she didn't give me any. She said to keep trying to breastfeed because I was able to produce droplets the day before and she put me on a pumping regimen.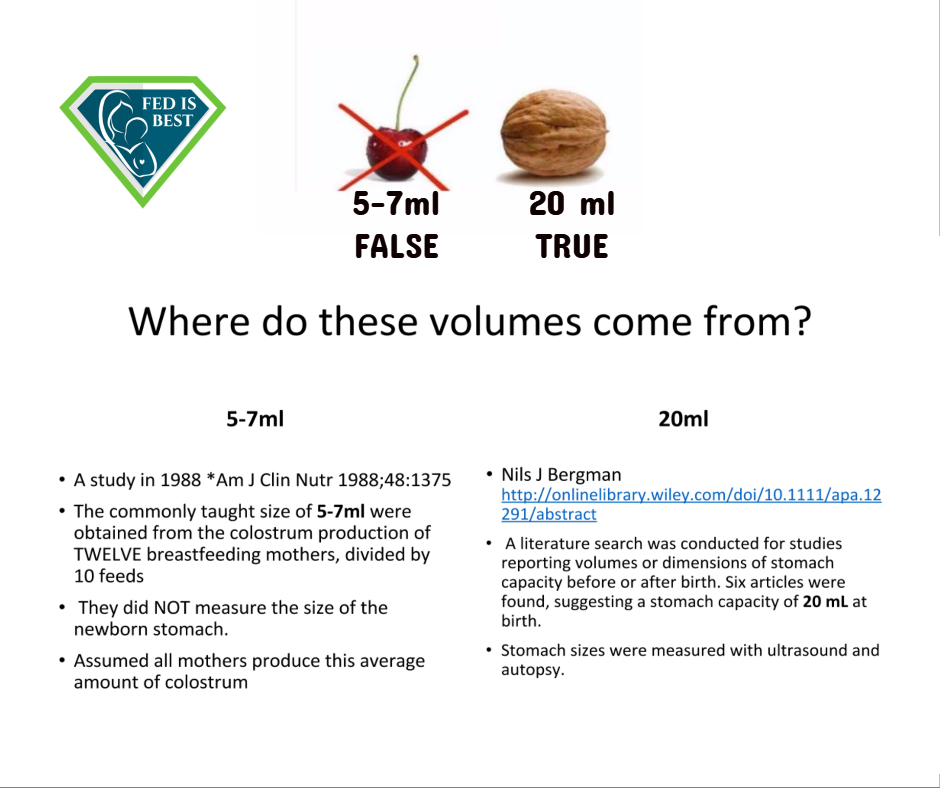 We left the hospital Saturday afternoon. Harrison was jaundiced and had lost 10% of his birth weight.  He hadn't eaten yet in his life and I still had no milk. We got home and I continued to breastfeed him every two hours. He'd latch, then fall asleep. My husband would try to wake him up and then hand him back to me to feed. The cycle would continue for an hour. Then we took an hour off and tried it again. At this point Harrison didn't want to latch any more.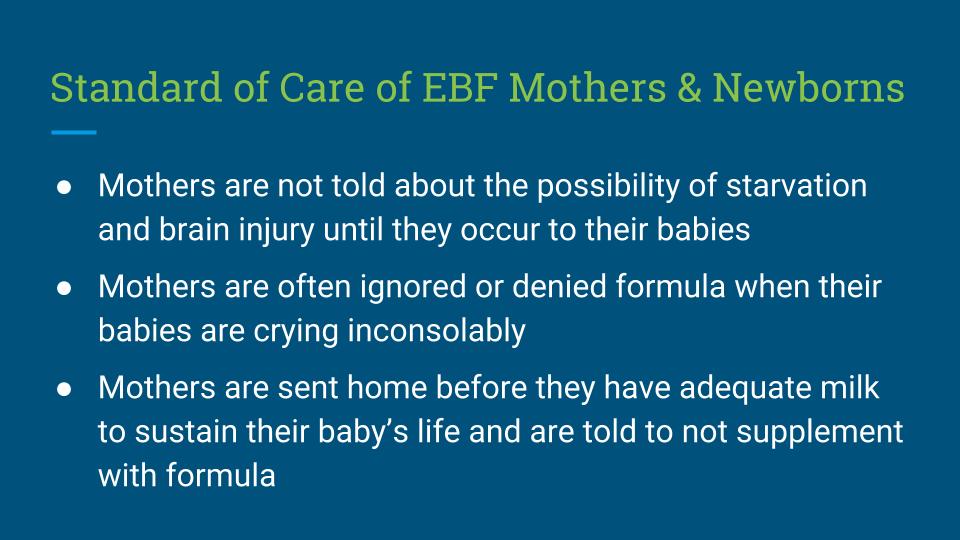 On Sunday morning around 2 a.m. Harrison woke up crying hysterically. He had enough of starving. He cried for hours and refused to latch. My husband got the sample of ready-made formula and gave it to him. I finally saw relief in Harrison's eyes. It was a relief to me as well—but it was also heartbreaking. I knew, for a fact, that it was the first time he had nourishment of any kind. It was Sunday. He was born that past Wednesday.
I didn't give up on my breastfeeding goal. I tried to breastfeed Harrison at each feeding. He'd latch and then fall asleep or he wouldn't latch at all. I started giving him two ounces of ready-made formula after offering him the breast and he would consume the entire bottle. After he ate I pumped for 30 minutes. My highest amount of milk was 20 milliliters for both breasts.
That night I couldn't sleep. I was convinced Harrison had severe jaundice. In the morning, we went to the pediatrician who ordered blood tests. The results showed that his jaundice was going down since I started giving him formula and his weight began  increasing.
We went to see the lactation consultants eight days after Harrison was born and spent two hours with them. They said that Harrison wasn't eating because he had a tongue tie (he didn't) and his jaundice was making him lethargic. They again acknowledged that my PCOS may cause me to not produce milk, but kept coming back to the fact that there was something wrong with Harrison. Then they weighed him before and after nursing. There was no change in weight. I again asked how to correctly supplement with formula while my milk "came in." They said I should stay on the same triple feeding regimen.  They never told me to see my pediatrician, but gave me a book and a cookie recipe.
I continued with the pumping regimen for two more weeks. I cried while I pumped. I felt like a complete failure. I was connected to a pump and my supply was getting even lower. I couldn't do the most fundamental thing that a mother does. My husband finally convinced me to stop. Once I gave up the idea that I had to breastfeed to be a good mother, the crying stopped. Harrison was back to his birth weight by the second week. By the end of his first month, he was a full pound heavier. He's a happy, beautiful little boy. I'm a good mom and my husband is a wonderful dad.
Looking back on my experience, I can identify the short comings that nearly landed my baby back in the hospital:
(1) My OB-GYN never telling me that PCOS could affect my ability to breastfeed,

(2) The breastfeeding class never addressing the signs that supplementing needed to occur.

(3) The lactation consultants not giving me formula, attempting to convince me that my milk was going to come in, and worrying me that my little boy—who was getting healthier every day because I was feeding him formula—was really sick.
I spoke to a friend who is a second year resident at another hospital. The other day he had a new mom bring her eight day old into the ER. The baby was suffering from dehydration and was hours from seizing. This wasn't neglect. It was a mom who was convinced that she was doing what was best for her child—breastfeeding. That baby could easily have been Harrison if I had followed the advice of the lactation consultants. Thank goodness I followed my instincts instead.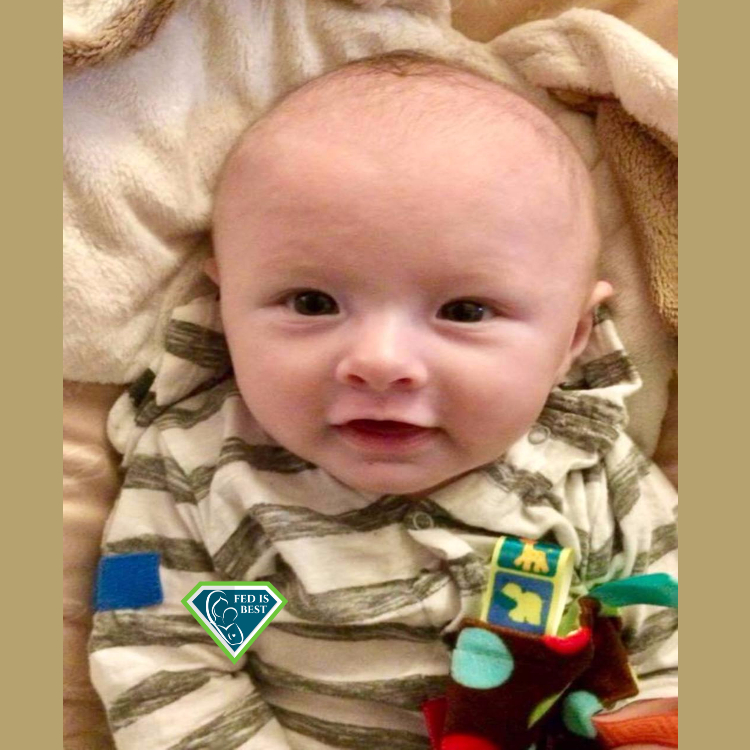 HOW YOU CAN SUPPORT FED IS BEST
There are many ways you can support the mission of the Fed is Best Foundation. Please consider contributing in the following ways:
Thank you so much from the Founders of the Fed is Best Foundation!