My son, Jackson, was born healthy and weighed 6lbs 15oz.  As a first-time mom, I trusted my hospital would help me to exclusively breastfeed my baby.  The nurses and lactation consultants helped me with proper latch and positioning and told me he was doing great.  He wanted to nurse every hour, and I was exhausted.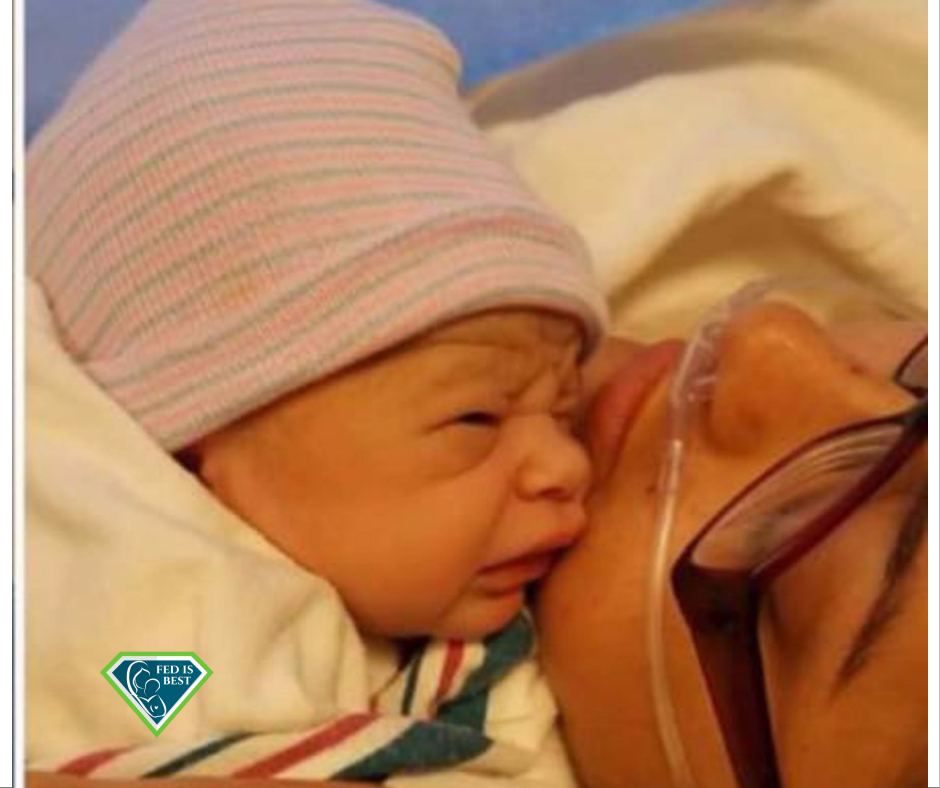 I began to think something was wrong because he cried and cried and continued to cry even after every breastfeeding session.  I kept asking the nurses if I was making enough colostrum and they said I was, but they never, ever checked to see if I was even producing colostrum.
I had brought my pump to the hospital so I could learn how to use it since I was going back to work. I asked if I could pump my breasts to check and they said no, that my baby would become nipple-confused. I then asked for formula because I just knew he was hungry. They very strongly discouraged me from using formula every time I asked.
He cried non-stop for two nights. He eventually passed out from exhaustion. I asked for formula again, and they brought a consent form for me to sign, but it was all about the terrible risks of formula. I was terrified I would hurt my baby if I used formula. Terrified.
We then decided to go home early because we could see our personal pediatrician right away. She saw his lips and mouth were extremely dry and he had lost over ten percent of his birth weight–positive signs of dehydration that no one picked up in the hospital a few hours earlier. Fortunately, he was not jaundiced. My pediatrician told me to supplement with formula immediately and he gulped down two ounces! My baby fell asleep peacefully, as he was finally fed. I can only imagine what would have happened to him if we didn't ask to be discharged a day early. My pediatrician asked me to pump my breasts to see how much milk I was making.  I pumped for almost an hour and got maybe seven milliliters–hardly enough for a newborn baby. I found out later that I had multiple risk factors for my breast milk to be delayed coming in.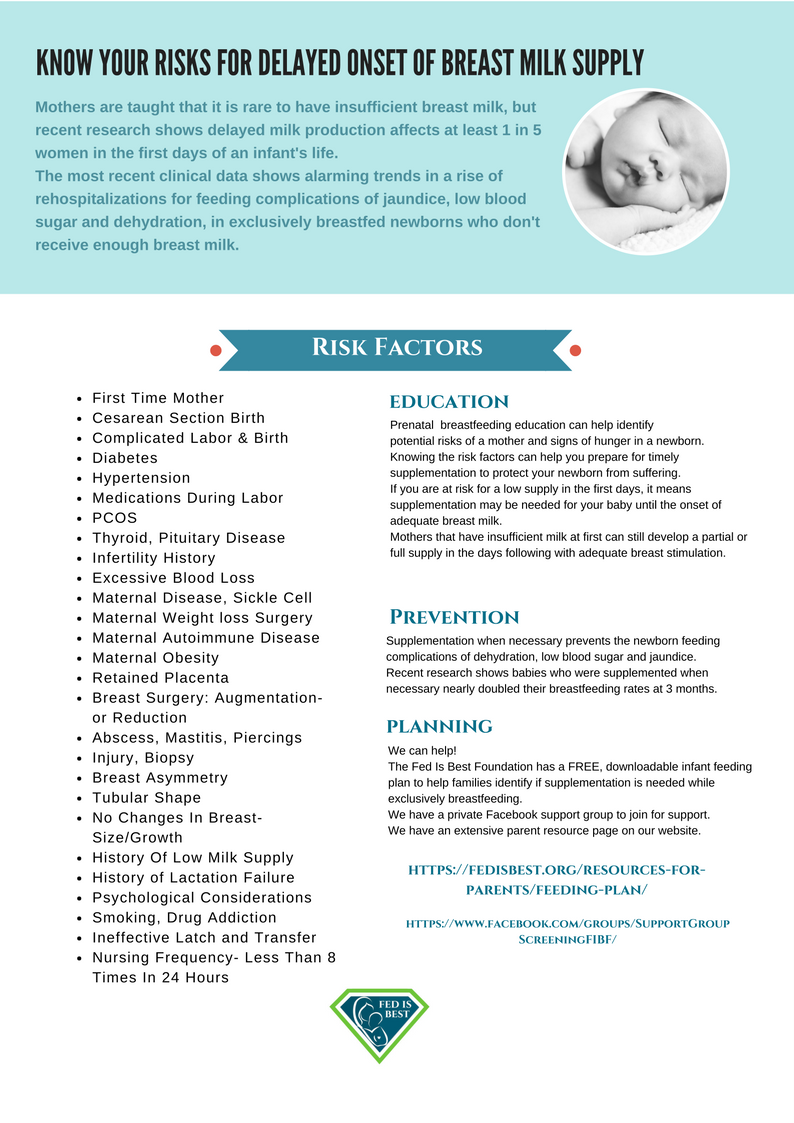 My biggest complaint, looking back, is that the hospital staff never investigated to see if my concerns were valid. They never told me to self-express to check for colostrum or would allow me to pump. They would just recommend new positions and strongly discourage formula, then assume all was resolved when I said he was latching a couple of hours later. 
I think breastfeeding is great, but I find it frustrating and unethical that medical information was purposefully withheld from me and caused Jackson to go hungry for 3 days.  I wrote a letter to my hospital as a first step.  They never took responsibility for my son's needless suffering from lack of colostrum intake and told me he was NOT hungry, despite his non-stop crying and his pediatrician's diagnosis of dehydration.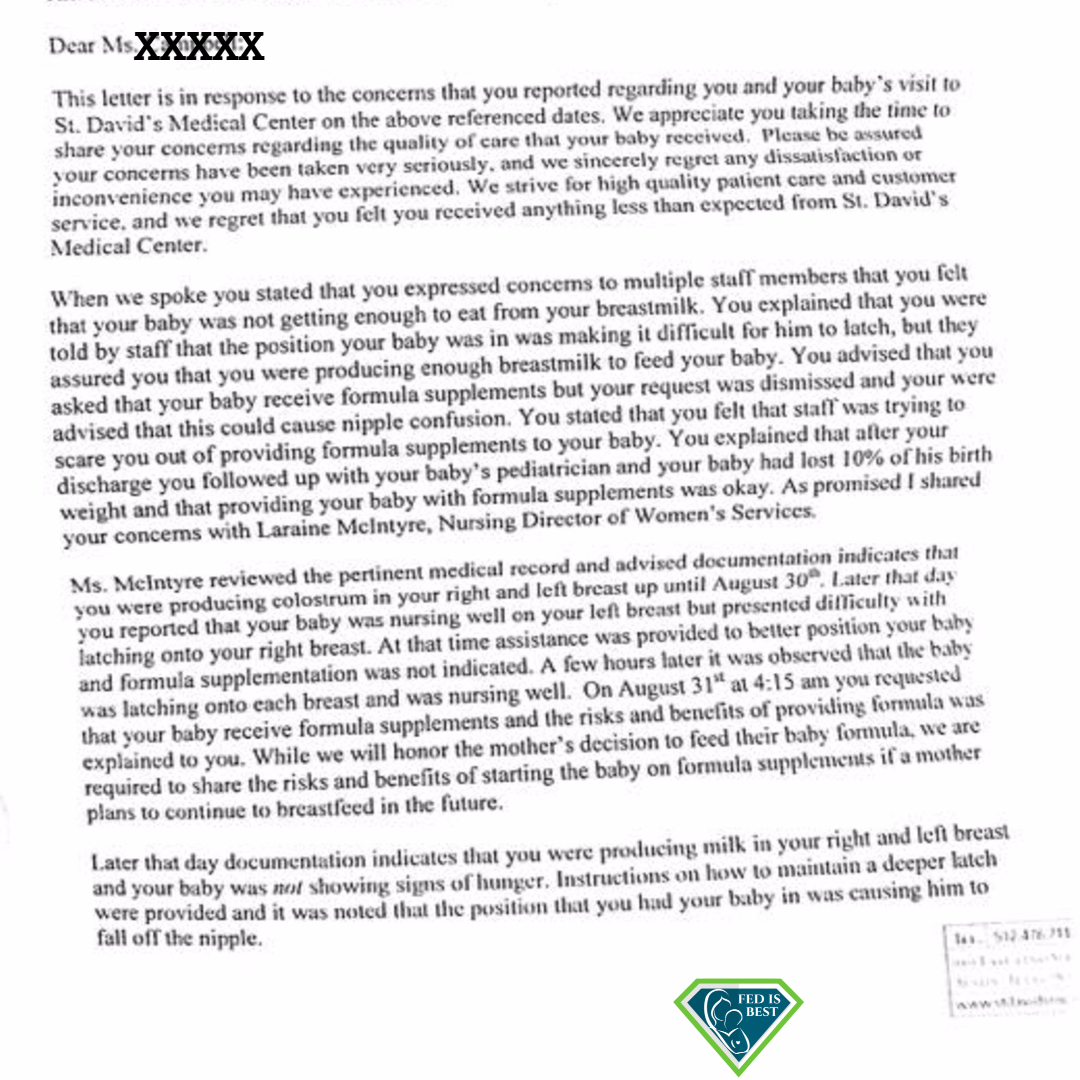 I am going to write to every patient safety medical organization to tell them my story, as I know there are so many other moms who are experiencing the same thing my son and I did. Of more concern, this hospital is pushing to become a BFHI-certified hospital; my experience would become only more common if changes do not happen Please join me by writing letters so all exclusively breastfed babies are protected from insufficient colostrum intake in the hospital.
Amy B.
---
HOW YOU CAN SUPPORT FED IS BEST
There are many ways you can support the mission of the Fed is Best Foundation. Please consider contributing in the following ways:
We believe all babies deserve to be protected from hunger and thirst every single day of their life and we believe that education on Safe Infant Feeding should be free. If you would like to make a donation to support the Fed is Best Foundation's mission to teach every parent Safe Infant Feeding, please consider making a one-time or recurring donation to our organization.
Donate to Fed is Best
Thank you so much from the Founders of the Fed is Best Foundation!