During my pregnancy, I began reading the Fed Is Best Foundation's feeding educational resources and feeding plan pertaining to breastfeeding and combo feeding. I didn't have  successful breastfeeding experiences with my previous children and wanted to try one more time. I went into labor when I was 37 weeks pregnant. My labor progressed extremely quickly. By the time we got to the hospital almost an hour later, it was already too late to set up an epidural. I struggled for hours with laboring and pushing, and both my daughter and I were profoundly exhausted after delivery.
Before I gave birth, I had studied the HUNGRY educational resource flyer for exclusive breastfeeding. My goal was to prevent inadequate weight gain with this baby. After my daughter was born, she was not interested in nursing, and I was worried because she was tiny. Thanks to Fed is Best feeding plan, I felt confident in letting my husband do the first feed with a bottle. I wanted her father to feed her so she could get some strength to nurse later and so I could rest. I loved watching him feed her as I recovered. About two hours later, I tried to breastfeed her again and she had the energy to stay latched and nursed. I was so happy she was breastfeeding!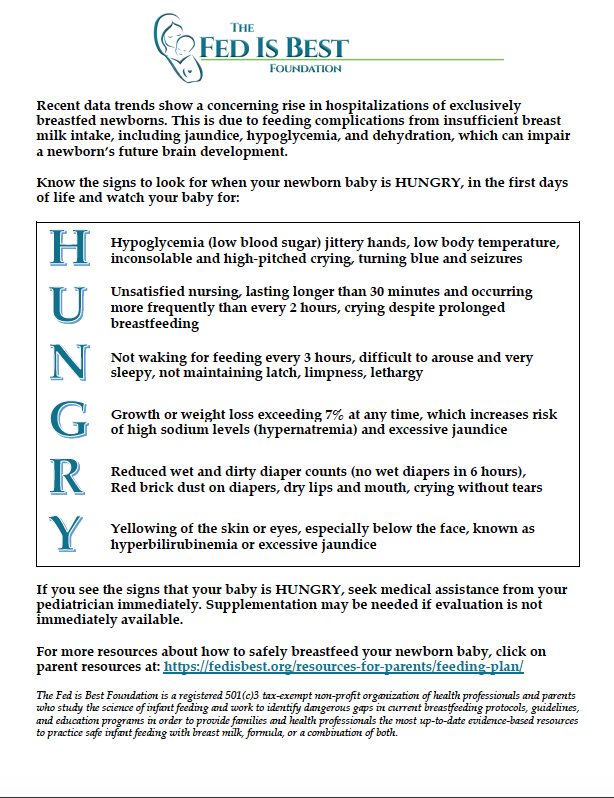 During our hospital stay, I gradually began to see some of the signs of hunger in my daughter that the Fed Is Best Foundation had described in the HUNGRY educational resource—she became jaundiced, she was not waking herself up to feed, and she was very sleepy and not nursing well. I decided to start supplementing at the breast using a supplemental nursing system (SNS) because I was very worried and and she was only 37 weeks at birth. It worked beautifully! She began waking herself up for feeds, and she was producing the necessary dirty diapers to get rid of the jaundice. Because of Fed is Best, I knew how to determine if my baby needed supplementation – this time. She was content and wasn't crying like the other babies. After my milk came in on day 5 my daughter didn't need to be supplemented anymore.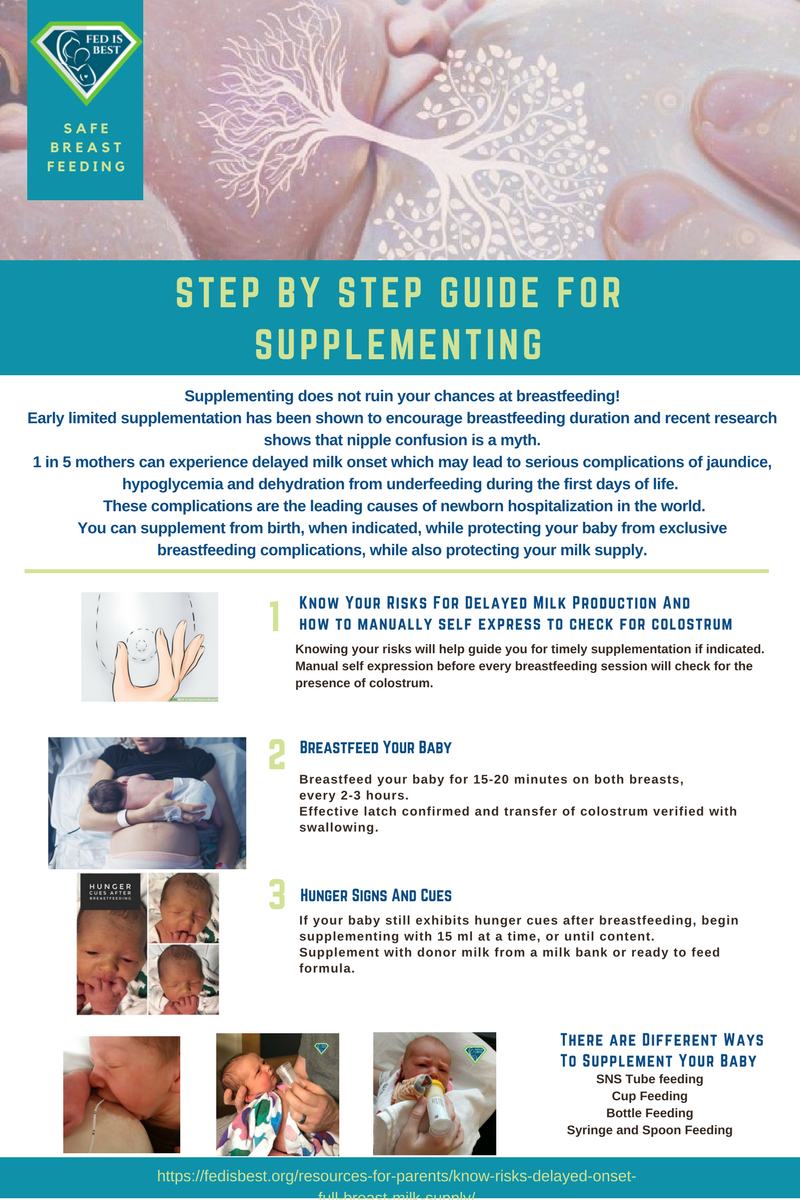 It wasn't too long before we started struggling with breastfeeding. I finally caught on that I had an overactive let-down; my daughter showed all the signs so I posted questions in the Fed Is Best Foundation's support group about overactive let-down and how I could help my baby handle my letdown until she could do so herself. I received good advice and a lot of support from other breastfeeding moms on how I could help my baby handle my let-down. Since I am a mom who works full-time, I read though the foundations files on pumping and power-pumping to help maintain my supply before I returned to work.
My daughter is now 11 months old, and we are still breastfeeding. My breastfeeding journey is still a challenge, but the Fed Is Best support group stands behind me with exclusive breastfeeding, like they do many other mothers in the support group.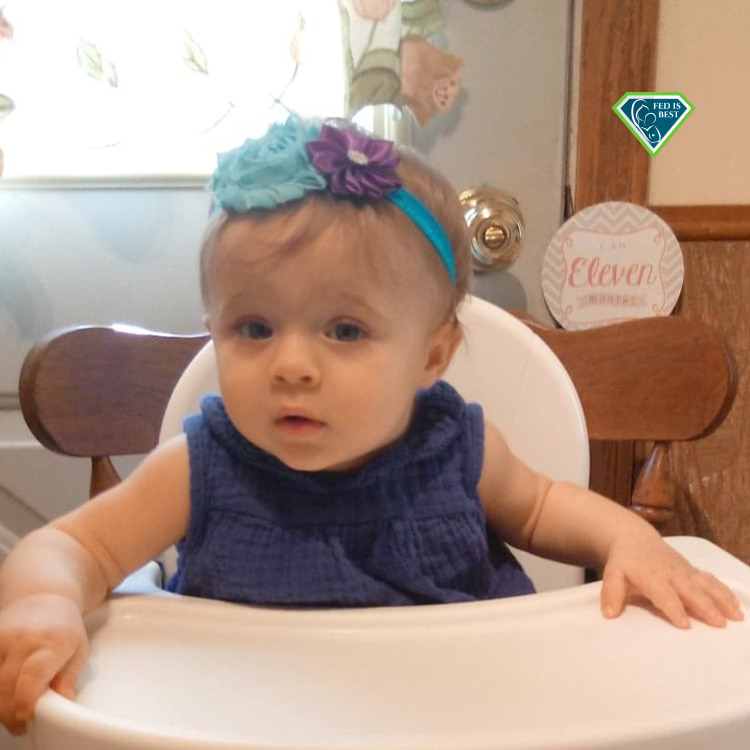 ---
Please, if you need help breastfeeding your baby, join the Fed Is Best Infant Feeding Support Group There is no judgement when asking questions, the group is kind and compassionate and they will cheer you on!  I am so glad I did this time.
~Sydney F.
HOW YOU CAN SUPPORT FED IS BEST
There are many ways you can support the mission of the Fed is Best Foundation. Please consider contributing in the following ways:
Thank you so much from the Founders of the Fed is Best Foundation!
Please follow and like us: