Dear Fed Is Best Foundation,
Thank you for everything that you do! Your organization has made me feel so much better about my situation and personal needs. I did have a question for you though, although I should probably explain my situation first. My daughter is now 14 months old. When I was pregnant with her, I had preeclampsia from about 28 weeks onward. I had to take maternity leave eleven weeks sooner than planned because my job as a full-time middle school substitute teacher was too stressful on my blood pressure. I went to the hospital at 37 weeks with a blood pressure of 177/100, and they decided to induce me. After 45+ hrs of labor, followed by an emergency c-section, Clara was born three weeks early.
My plan was to try to breastfeed, at least for the first 6 months. We had skin to skin immediately after birth, and I tried breastfeeding right away. She didn't latch at first, so we thought we'd try again a little later. Once we got back to my room, we attempted again, but she still wouldn't latch. She had absolutely no interest. She would turn her head away every time I would push her toward the breast, and she would cry as loud as if we were hurting her.
I asked for a bottle of formula. I was advised of nipple confusion, but I didn't care. They only let me give her 2 mL, so I could try to breastfeed again later.
Then the bleeding and shaking began. I got back to my room and was only able to hold my daughter for about an hour when I started to gush blood. The doctors and nurses couldn't contain it on just the pads that they put underneath you. There was so much blood, they were weighing the pads to see how much I've lost. I started getting uncontrollable chills and going in and out of consciousness. From what I remember, they said that I was not clotting. They had to take me down to the OR for a D&C. So the first almost five hours of my daughter's life, I didn't get to hold her. My very stressed and scared husband did.
I lost so much blood that I needed transfusions and hadn't slept the two nights prior. When I came to, instead of allowing me to recover, they pushed me to try nursing my daughter, who was still not interested. She did not and could not latch.
I asked for more formula and they told me no and to try breastfeeding again in the morning.
In the morning, the pediatrician came in to check on Clara again, and we were informed she already had jaundice as a result of our blood types and now that I think about it, she had barely had any fluid in the first day of her life. The levels were so high that she had to lay in a phototherapy bed most hours of the day, and I could not hold her, except to feed her. (Click here for  jaundice risk factors.)
They still kept pushing breastfeeding and made me pump for her, even though nothing was coming out. I was beyond exhausted.  I hadn't slept and had lost tons of blood, but they made me pump every 2 hours. I had four different lactation consultants visit me, and I started getting really frustrated and distraught because I could not hold my baby. She had to stay in the phototherapy bed, and every time I did get to hold her, she would scream and not latch, and then I would get upset again. There was no bonding at all, and I was feeling hopeless. The nurses would still only allow 2-3 mL of formula at a time so we could keep trying to get her to latch.
By the time I left the hospital, I was an emotional wreck. I was not even doing the formula feeding, I had my husband do it; because I felt like such a failure. In short, they sent Clara home too early, and I was pumping almost nonstop with no milk and only giving her 2 mL at a time of formula. After I sent my husband to the store to get more formula, I found her limp in her baby swing. We had to rush her back to the children's hospital. They put her back in the phototherapy bed, and I couldn't hold her again except for during feeding time. While I was at the children's hospital, they were still pushing me to breastfeed, knowing the reason why she was admitted was that I wasn't making any milk!  While I was watching my daughter on all sorts of monitors in the phototherapy bed, they made me pump, only to get tiny drops every time.
I told them that I was done with pumping and I just wanted to feed her formula; they told me formula was not good for babies, and that she wouldn't have a good immune system or be as smart if I didn't give her breast milk. They made me feed those tiny drops  of breast milk to her, but at least allowed me more formula so that she'd be able to go home.
They sent us home with a bili blanket, and Clara had to be wrapped in that for 3 straight days, once again only being held to be fed. I was pumping every 2 hrs but was so upset with myself because I could only get  2 mL of milk at a time. I asked my husband to feed her. I didn't want anything to do with anything. I cried constantly with frustration and exhaustion. We had to take Clara back to the hospital, which is about 30 miles from our house, for blood tests every day for a week.
When I finally was able to hold my daughter after her bili levels were good and we weren't going to the hospital every day, I didn't want to hold her because she cried all of the time, which we found out later was from acid reflux. After pumping with drops of milk for 2 months, and having severe postpartum depression, I was advised by my OB and my psychologist to start taking antidepressants and begin formula feeding.
It was the best thing I ever did. I felt like myself again and I couldn't wait to spend time with my adorable daughter FINALLY.
I am planning on trying to get pregnant at the end of this year. This time I am planning on formula feeding my next child. I'm not even going to attempt to breastfeed, because I know I don't produce enough milk due to PCOS. I am afraid the nurses at U of M are going to be pushy again. I'm really anxious about it. If they made me breastfeed after the horrible birth experience I had, I know they'll do it again. How do I tell them to back off? I don't need a lactation consultant or a pump. How do I tell them to leave me alone? I know it's not a BFHI hospital, but they do act like one.
Thank you so much!
Beth
---
Many mothers ask us how to create their own infant feeding plan, and how to communicate with their hospital about their infant feeding decision to ensure their needs are met. We have a private Facebook support group where our team helps mothers contact their hospital and talk to their OB and pediatrician before delivery. Click here to join us.
We have printable signs for mothers who want to use them and detailed ways to contact your hospital.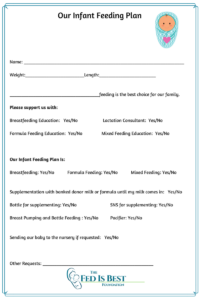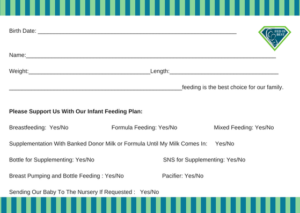 https://fedisbest.org/resources-for-parents/writing-hospital-babys-feeding-complications/
https://fedisbest.org/resources-for-parents/starvation-jaundice-risk-factors-prevention/
https://fedisbest.org/2017/10/i-contacted-every-patient-safety-organization-after-my-ibclc-withheld-clinical-information-from-me-causing-my-newborn-to-starve/
HOW YOU CAN SUPPORT FED IS BEST
There are many ways you can support the mission of the Fed is Best Foundation. Please consider contributing in the following ways:
We believe all babies deserve to be protected from hunger and thirst every single day of their life and we believe that education on Safe Infant Feeding should be free. If you would like to make a donation to support the Fed is Best Foundation's mission to teach every parent Safe Infant Feeding, please consider making a one-time or recurring donation to our organization.
Thank you so much from the Founders of the Fed is Best Foundation!