The Fed Is Best Foundation has a private Facebook support group for mothers who need a safe place to talk about their infant feeding challenges without judgement. Mothers told us how they felt when they fed their babies formula.
Shannon: I was told my daughter needed formula when she was hospitalized for three days.  I cried for those three days because I felt so guilty. I kept telling her "I'm sorry. I'm sorry for doing this to you, baby girl. Mommy is so, so sorry." The doctors had to bring me food because I refused to leave my daughter alone. Granted, she was only four months old, but at that time, I just couldn't leave her. I felt like she had to know I was there for her, that I felt terrible for unknowingly starving her.  My husband at the time came to visit and he held me for hours as I cried saying "It's my fault. It's all my fault. I wasn't enough. I'm not enough for her. They told me I would be enough and I'm not."   To this day, when I have one of my bad days, it all repeats in my head– the psychological damage is still there.
Amanda: The first time I fed my son a bottle of formula, I felt like an absolute waste of space as a mother. I genuinely felt like the worst, piece-of-garbage, failure-of-a-parent there was. I felt like I had failed him in every single way. Not only had I starved him and been unaware of it—I felt like I should have just known—but I had to use formula from a can to nourish him because my body stubbornly refused to make enough milk. I felt like anybody could just pick up a bottle and completely replace me in his life. It was a terrible feeling.
Allison: Initially, I felt both shock and relief—shock because lactivists have done such an excellent job of spreading the lie that every woman can breastfeed, and relief because when we saw that I did not have any colostrum, milk, or a baby that would latch, there was an option to ensure my baby would be well-fed and healthy. Despite the serious complications I suffered during my pregnancy and birth, it genuinely did not occur to me that I might not have any colostrum or breastmilk. My baby was also a preemie who flatly refused to latch, another possibility I hadn't considered. Also, as a survivor of severe child abuse and sexual violence, I hadn't realized how triggering it would be for me to pump. Being forced to expose my breasts and hook them up to a pump, regardless of whether or not I wanted to, caused flashbacks to other scenarios where I had no control over my body. I believe this played a role in my developing a mild case of PPD that thankfully resolved quickly with medication. Formula has been a gift to my child and myself.
Heather: The first time I gave him a bottle of formula was my very first time feeding him without suicidal thoughts plaguing me. He looked right into my eyes, and, for once, I didn't look away. I didn't have the urge to hand him off to someone else. I didn't have any negative thoughts about pumping or pain. It was the first truly bonding experience I had ever had with him.
Kirsten: Relieved, and then guilty and ashamed. When they started the formula because of the jaundice, I was so happy because he was getting what he needed. I knew that I wasn't producing anything and that he was hungry. But then I felt guilty and ashamed  because I was not able to do what I was supposed to do. I spent two weeks pumping and supplementing before I stopped.
Laura: At first, I felt like a total failure and could not understand why my breasts would not do what they were supposed to. I would sob as I fed her. But over time I saw how much she was thriving and I started to forgive myself. I truly believe supplementing and then EFF saved me from hurting myself and allowed me finally to love my baby.
Brittany: When I finally began introducing formula, I felt like a weight had been lifted off my shoulders. I made it to eight months giving my child only my breastmilk, but knew something wasn't right—I was sad all the time and I felt hopeless. I pushed through those first eight months because I *knew* what I was doing was feeding my child the best I could give her, but I did so at the expense of my own health. I couldn't leave the house, couldn't get myself to shower or cook or clean. I missed some of the most amazing times in my daughter's life because I *had* to give her breast milk. I didn't realize how bad I felt until I gave her formula for the first time. I had thought I would cry, but I didn't. I may have shed a tear feeling like I failed her slightly, but overall, my feeling was such relief, and it only got better. I now enjoy my baby.
Sara: The main reason I used formula was because I didn't make enough breast milk and my daughter was starving. They always leave that one off when they lie to women about how "everyone can breastfeed." When people say fed is minimum or formula is junk food, they make me feel ashamed that I have a medical condition, which is so messed up. If I had continued to ebf, my daughter would be dead. Formula saved her life. But, any time I bring this up I get told I didn't try hard enough, or I didn't actually have low supply. It's ableist and abusive.
Karoline: I planned to supplement from the beginning and not. a. single. healthcare. provider would discuss it with me or answer my questions. Neither the WIC people nor the county health department would discuss it  either. Throughout my pregnancy, I asked anyone I thought would help, and all I got were comments about breast being best, assurances how my boobs were big enough that I wouldn't have a problem, and offers for breastfeeding classes and breastfeeding counselors. I just wanted to know how to prepare a bottle, and part of my fear at that first feed was that we hadn't prepared one properly and my baby would get sick because we didn't know what we were doing.
Dana: I never *loved* breastfeeding, but we got by. I felt like I was supposed to. My supply tanked and my daughter wanted to nurse more and more. I began to resent her need to eat, and my postpartum depression and OCD got worse and worse. When I decided to give her a bottle of formula, she drank the whole bottle and stopped crying! She was calm and peaceful and fell asleep. I felt RELIEVED.
Elisabeth: Even after my newborn son experienced accidental starvation and had to be readmitted to the hospital, I still felt like a failure every time I gave him formula. "Breast is best" was so ingrained in my head that I couldn't see the bigger picture. It took over two years for me to fully realize that "fed is best." It's a tragedy that mothers feel like this during the first years of their childrens' lives due to misinformation coming at them from all angles.
Ally: The postpartum ward never ever indicated to me that my son needed supplementation. Then the pediatric floor treated me like a monster when my son was admitted five days later for severe jaundice. I was so numb I couldn't feel any emotion; I just fed him while he was under the lights so he wouldn't cry so much. After that it was just a fact—he had to be supplemented. The anger and the emotions, though, came later when I realized what had happened.
Stacie: I felt like a failure. I felt like my body was a failure. I felt betrayal, that I was wrong, that everything about the situation was wrong. I was embarrassed that I was feeding her a bottle. I would hide and not go out when it was time to eat.  My heart would race and I would just want her to finish as soon as possible.  Now I'm so proud the way she holds the bottle by herself and gets so excited to eat. Sometimes I'm still sad that I can't offer her enough nourishment myself from my own breasts. Sometimes those feelings come back and I feel like I have to justify it all over again when feeding her around new people. It's exhausting and frustrating.
Jessica: Honestly, I just felt relief. Pure, honest relief was washing over me as I realized I didn't have to breastfeed anymore and I could put that painful, awful experience behind me.
Kristina: What helped was my mom telling me it's okay to use formula (even though she breastfed 3 babies) and that all they need is a loving supportive family. She's right. The guilt set in later though. If my child got sick, I assumed it was due to not breastfeeding. WIC appointments destroyed my self-esteem every time.
Mandy: At first, I felt ashamed that my body could create my baby but my breasts could not feed him. I cried when I gave him the first bottle because I realized how hungry he was. But then I was relieved he was fed and happy and healthy.
Liza: I was made to feel really guilty. My family called me and told me horrible things. I struggled so much with breastfeeding (mainly latching issues) that I was close to a mental breakdown and considered harming myself. The only person to help me in my distress was the visiting health nurse. She assured me that formula was good, and she gave me a small bottle of formula in case I needed it. Once I switched fully to formula, I was able to start enjoying my baby more and my mental health improved, but I still felt terribly guilty and family still made me feel awful. I had such an awful experience that I no longer want any more children.
Tory: I wept because I felt like a failure. I wept because I could tell how hungry she truly was when I saw how furiously she guzzled the formula down. When she finished the bottle I just held her in my arms and we both fell asleep, finally, without tears.
Emma: When I gave a bottle to my first I cried through the whole feed. I felt as though I had destroyed her future, that she was destined to a life of illness, obesity and lower IQ. I thought any breastfeeding after this wouldn't be as good because she didn't have a "virgin gut" anymore and this would cause problems. I felt I had failed as a mother and maybe, if I couldn't even breastfeed, then I was probably going to be rubbish at everything else as well. I thought that I shouldn't even have a child again, that I didn't deserve one, in case I failed at breastfeeding again. Despite feeling all these things, I also felt a huge sense of relief when my baby slept peacefully after the feed, clearly full and satisfied.
Jennifer: I was so relieved to feed my baby formula when she was four days old and admitted in the children's hospital with hypernatremia (high sodium) and dehydration. She had been either continuously at my breast, crying, or so weak from hunger she was unable to wake to feed (the scariest!) before I fed her formula. At the children's hospital, I discovered I produced only a little breastmilk. When pregnant, I had wanted to be one of those super-moms who make extra breast milk and donate to preemies in the hospital, but now my baby was in the hospital, and I felt a great deal of mom-guilt. I was sad that my daughter would miss out on breast milk, but I was thankful she was going to pull through and survive!  I never imagined I would say formula saved my baby's life.
---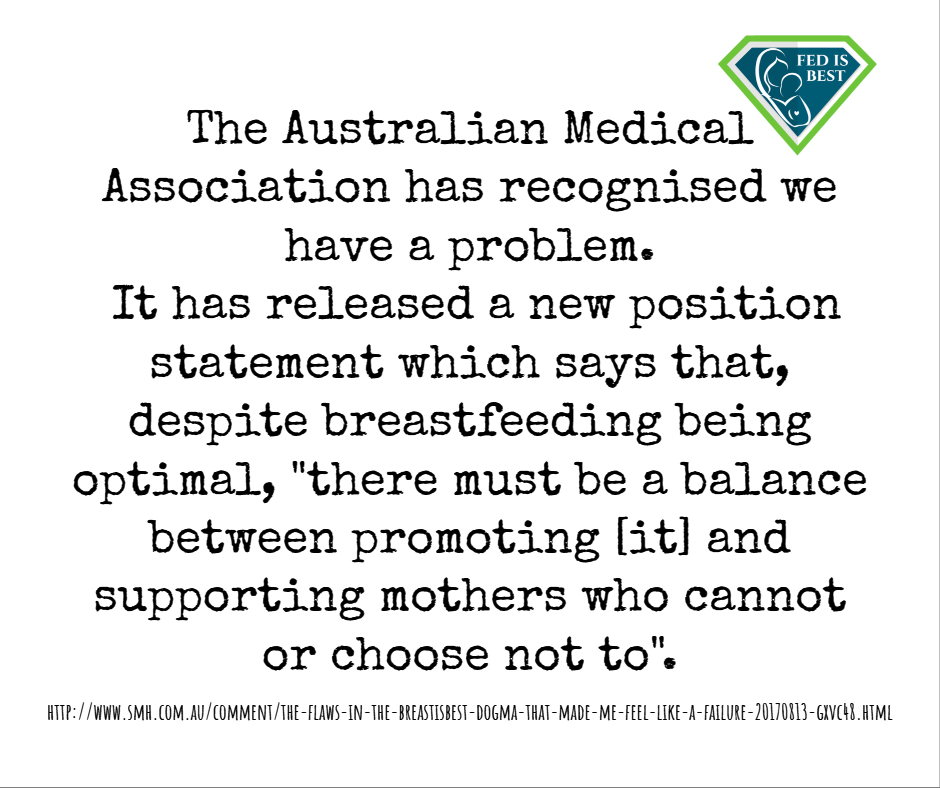 ---
Dr. Ruth Ann Harpur writes: One thing is for sure, there is a huge human and emotional cost for many women and their families when breastfeeding doesn't work out. By changing how we define successful infant feeding, we can empower families to feel positive and confident about how they nourish their babies, and we may prevent the psychological stress which results when things don't go according to plan.
We must recognize that a feeding method is successful when a mother is comfortable and relaxed, and she is confident her baby is nourished. Successful feeding is a fully fed baby who knows he or she is loved and nourished, physically and emotionally, in a calm, healthy, and happy family.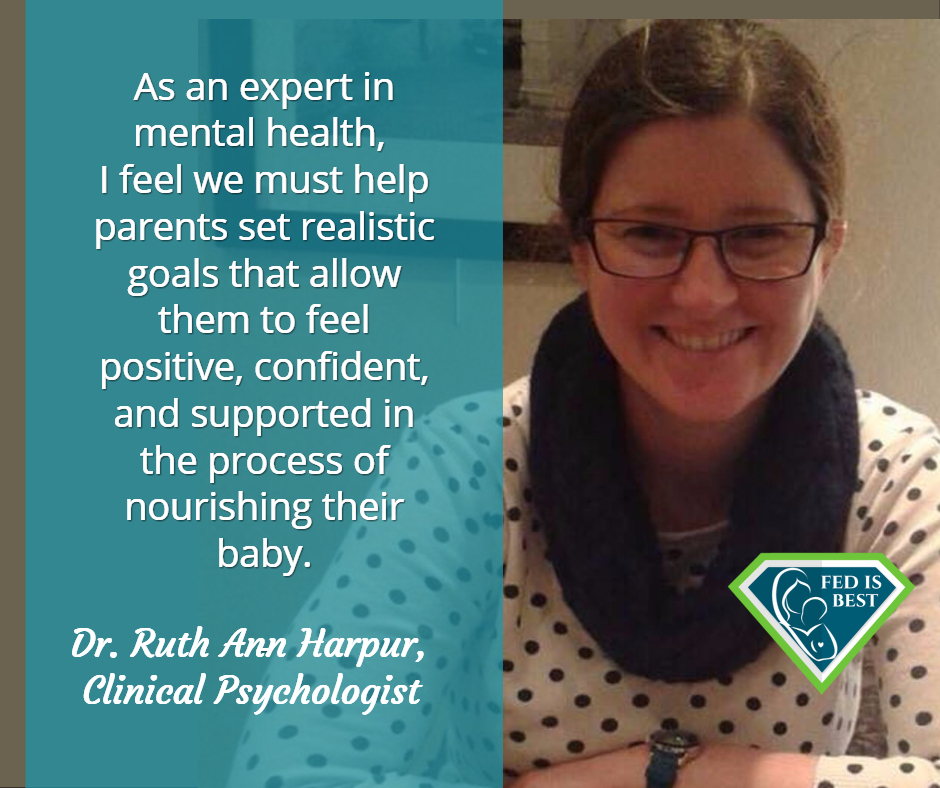 Ruth Ann holds a PhD in developmental psychology from the University of Southampton and a Doctorate in Clinical Psychology from the University of East Anglia. After unexpectedly turning to formula to feed her daughter, she came across The Fed is Best Foundation and was moved and disturbed by the level of psychological distress, depression, anxiety, and trauma which many women reaching out to The Foundation are experiencing. An expert in mental health, she is passionate about empowering women to confidently nourish themselves and their baby, whatever their feeding method.
---
HOW YOU CAN SUPPORT FED IS BEST
There are many ways you can support the mission of the Fed is Best Foundation. Please consider contributing in the following ways:
We believe all babies deserve to be protected from hunger and thirst every single day of their life and we believe that education on Safe Infant Feeding should be free. If you would like to make a donation to support the Fed is Best Foundation's mission to teach every parent Safe Infant Feeding, please consider making a one-time or recurring donation to our organization.
Thank you so much from the Founders of the Fed is Best Foundation!